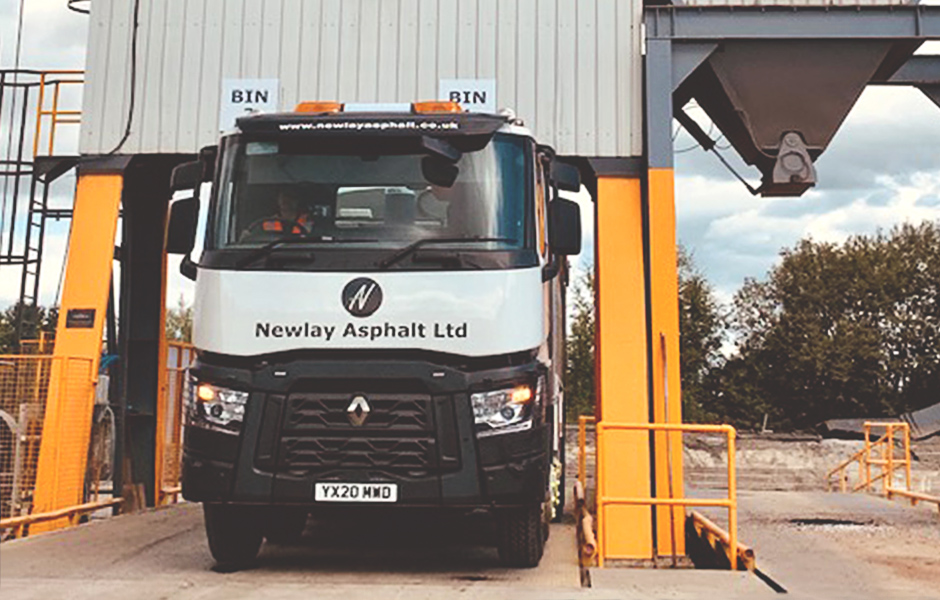 Newlay Asphalt's facilities
Our modern fully automated systems provide a simple drive through operation, suitable for all sizes and types of vehicle. The plant is operated by our friendly and helpful team of staff. Collections are normally dealt with quickly and efficiently within only a short waiting time. On site hospitality is available while you wait (toilets and refreshments).
CE certificates available by request.
Flexible Collections
We open Monday to Saturday, 7:30am to 5:00pm - extended opening available by arrangement.
Extended Opening
To carter for our customers sometimes late working schedule and weekend needs, we are able to extend our opening times by arrangement, to suit most evening and Sunday collections.
Collection Sizes
We can provide large quantity orders on demand - with a minimum order size of half a tonne.
Large or Small Collections
Whether you only need a small amount of asphalt for a repair, or require several truck loads for a complete road resurfacing, we can quickly provide the quantity you need.
Staff Product Knowledge
All our friendly staff can advise you about what type of asphalt will suit your needs.
Staff Product Knowledge
Our experienced, thoroughly trained staff can help you make an informed decision about the type and grade of asphalt you need – quickly and efficiently process any orders.
Cost Effective
We are competitively priced across the whole of our asphalt product range, tools and accessories.
Our modern fully automated "state-of-art" plant ensures, along with our proficient working practices, that all of our asphalt products are manufactured quickly and efficiently – keeping down the cost to our customers.
Watch the Newlay plant in action
We know how important it is to keep your asphalt laying process on track – so we offer a quick, efficient delivery service.
Our fully insulated asphalt specified delivery truck can deliver up to 20 tonnes at a time, usually within 90 minutes of placing your order and delivering to within a practical radius of our Dewsbury plant (though delivery to locations more than 60 miles can be fulfilled by agreement). Our deliveries can effectively reach all of Yorkshire's major towns, cities and roadways, as well as reaching Manchester and surrounding area.
Our truck has the addition of chutes to help with ease of unloading – providing the benefit of a quick and efficient asphalt deliver – keeping waiting times and cost down.
Though usually you will be able to place your order and then drive straight through to collect it, occasionally there may be a short wait while we prepare your order or process any other collections – therefore we have a Complimentary Hospitality Area for your convenience, providing toilet facilities and complimentary free refreshments.